What Is An Intensive Outpatient Program?
If you are new to the world of substance abuse but are currently considering seeking addiction treatment for yourself or one of your family members, you may be be hearing for the first time about something called intensive outpatient programs.
While residential treatment programs, which require patients to stay full time in their treatment facility, are what most people think of when they think of substance abuse treatment, inpatient treatment is not the only option when it comes to substance abuse.
If you'd like to explore additional treatment options, you may want to look into an intensive outpatient program (IOP), which provides treatment sessions to patients for around fifteen to twenty hours a week but allows them to live on their own and continue their usual lives outside of treatment services.
This allows patients to continue to attend to family obligations or to continue to work even while they are in addiction treatment, and to maintain more connections to the outside world. On the more extreme end of intensive outpatient programs, such as in a partial hospitalization program, patients may participate in treatment programs for up to eight hours a day on at least five days a week.
But even the most intensive outpatient program is generally far less restrictive and usually far less expensive than inpatient treatment, making it more accessible to many patients as well as less taxing on their mental health, since there is less separation from loved ones and the comforting routines of everyday life.
Who May Benefit From An Intensive Outpatient Program (IOP) As Opposed To Inpatient Treatment?
As discussed above, one major group of people who might benefit from outpatient treatment as opposed to inpatient treatment is people who would be unable or unwilling to attend an inpatient program due to financial or lifestyle limitations but are struggling to control their drug abuse.
An intensive outpatient program also may be a good choice for someone who is transitioning out of inpatient treatment centers but still needs more accountability and support than they would have on their own. IOP treatment could give such patients a chance for what they have learned in their residential treatment programs to solidify before they are left to their own devices, aiding them in relapse prevention.
Intensive outpatient programs can also be useful for early intervention services, which will typically involve patients whose addiction is still relatively mild. IOP treatment is also ideal for patients who have a strong support system in place at home, so that some accountability in their private life could result in an overall environment that replicates inpatient programs.
For this reason, some patients transitioning into intensive outpatient programs from an inpatient treatment facility who do not have this kind of strong family support may want to consider a sober living home. In these residences, part of the gap between residential treatment and intensive outpatient treatment can be filled be peer support and accountability to residence staff, who will ensure that a drug free environment is maintained at all times.
However, inpatient care is generally more suitable for patients who have severe co occurring disorders affecting their mental health, or who are afflicted severely enough by their substance addiction that they are at too high of a risk of relapse or other complications to be able to live independently. For instance, someone who is chemically dependent due to their drug abuse or alcohol abuse will often need to begin their treatment in an inpatient program specifically dedicated to detox.
Seeking treatment advice before quitting cold turkey is especially important when it comes to alcohol abuse, since, in rare cases, a medical emergency can be caused by sudden alcohol withdrawal. Because of this, residential treatment programs are usually recommended for at least the initial stages of treatment for severe alcohol abuse.
What To Expect In Intensive Outpatient Programs
At the core of most intensive outpatient programs, as well as most residential treatment programs, is individual therapy. In individual therapy, behavioral health issues are addressed in a one on one setting with a qualified treatment provider using methods that have been scientifically backed and have proven successful in the behavioral health industry.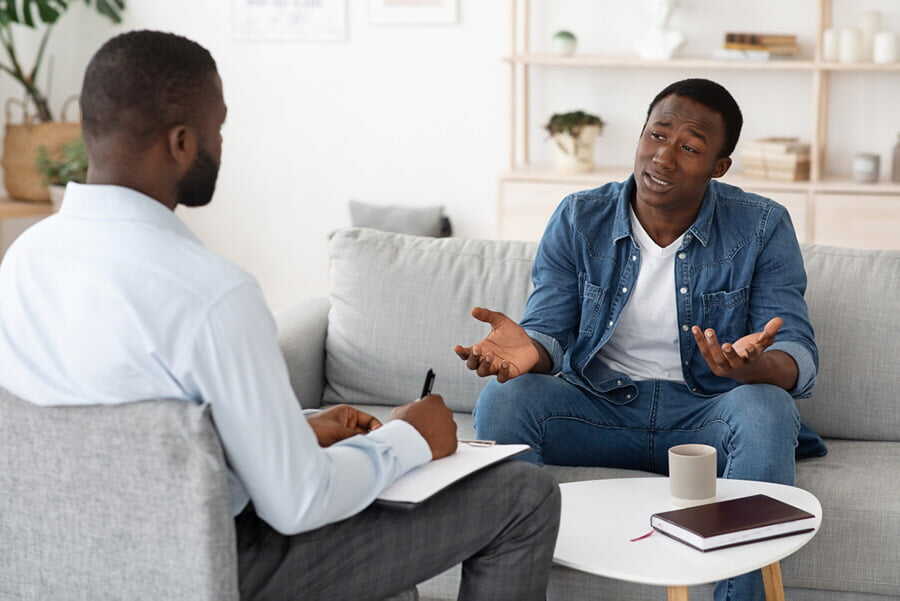 For instance, our high quality behavioral healthcare approach involves cognitive behavioral therapy, a form of individual therapy that focuses on changing problematic thoughts and behaviors while encouraging patients to engage in healthier coping strategies instead.
Patients are also assessed for any co occurring disorders that may be affecting their mental health and treated for these mental health issues. Along with therapy, this may involve treatment options like medication management by a psychiatrist qualified for rendering medical advice on the subject.
For some patients, medication management may also involve medication aimed at their substance abuse disorder in particular as opposed to a related mental illness. For instance, in our intensive outpatient program, we routinely use the medication Vivitrol in our substance abuse treatment.
High quality behavioral healthcare also often incorporates family therapy sessions. In family therapy, family members are invited to participate in the recovery process. A treatment provider will serve as a neutral buffer, allowing issues to be discussed and worked through in a calm and healing setting.
Along with family therapy, individual therapy is usually supplemented by group therapy. Support groups provide people seeking addiction treatment with a unique opportunity to discuss their experiences with others who have faced the same struggles, which can help bolster their self esteem and mental health.
Support groups can focus on specific topics like relapse prevention, specific mental health issues, or healthy coping strategies. Support groups may also introduce patients to the twelve steps, one of the oldest and most respected methods of substance abuse treatment.
Group therapy and support groups are also important for helping patients to bond with one another and to form lasting peer support networks that can help them stay sober long after they leave their intensive outpatient program (IOP), which brings us to the idea of addiction treatment aftercare.
Another standard in the behavioral health industry is offering aftercare services for patients who are transitioning out of addiction treatment and back into independent life. This can include continual access to some outpatient services, help with job placement and professional development, and resources like relapse prevention groups that clients can use to stay sober for good.
Depending on the specific treatment provider you choose, you also may run across various alternative treatments that are aimed towards fostering holistic wellness. While you should be sure to do your research and be wary of anything too out there, treatment options that are a little outside the norm can be a valuable addition to you or your loved one's treatment plan as long as they are provided along with more conventional treatment options.
Some of the more alternative treatments that we offer in our intensive outpatient treatment center include weekly yoga sessions, adventure therapy excursions, expressive arts therapy, and equine facilitated psychotherapy.
Learn More From The Substance Abuse And Mental Health Services Administration And Other Resources
While we've tried to give you an overview of what to expect from outpatient substance abuse treatment, we've only scratched the surface when it come to addiction education. And though there is certainly a lot of information about substance abuse and substance abuse treatment options out there on the internet, there is also quite a lot of misinformation out there.
The behavioral health industry has its share of bad actors in the realm of addiction treatment, so you'll also need to thoroughly research any outpatient treatment centers or inpatient programs that you be considering.
So, you might be wise to focus on resources that are connected to a known and trustworthy entity, such as the US government. One example of this is the website of the Substance Abuse And Mental Health Services Administration, which has a variety of informational and practical resources for anyone seeking addiction treatment services.
Similarly, you can visit the website of the National Institute on Drug Abuse, especially if you're interested in what the latest science has to say about the best treatment practices for mental health and substance abuse.
Top Intensive Outpatient Treatment Program At Delray Beach IOP
In our intensive outpatient program (IOP), credentialed medical providers specializing in addiction treatment services offer our clients the very best that the behavioral health industry has to offer. Our high quality behavioral healthcare makes us one of the best treatment centers nationwide, and we are recognized by the Substance Abuse And Mental Health Services Administration and National Institute of Health as a reputable addiction treatment provider.
We can also help you to explore additional treatment options from our affiliates, including inpatient programs, if we determine that you or your loved one is in need of a higher level of care than intensive outpatient treatment can provide.
Our treatment center provides a private and convenient solution for anyone seeking addiction treatment, scientifically backed treatment practices, and a comprehensive and individualized treatment plan for each and every client.
To learn more about our intensive outpatient treatment and how you or a loved one can get back on the road to a life free of substance abuse and take control of their mental health, you can call us anytime at 833.637.0338 or contact us online anytime here.