Though time in an inpatient facility can be an essential part of the recovery process, addiction treatment centers are only the beginning of someone's recovery journey. Leaving rehab is not to the end but the beginning of the lifelong fight to stay sober, and disease management for drug addiction can be an arduous process. Here are some of the best tips for staying sober that you or someone you love may find useful as you approach your early recovery.
Utilize Recovery Support Services And Build A Solid Support System
Many treatment programs offer aftercare services their clients can utilize after leaving rehab. For instance, treatment centers may allow you to continue to utilize individual or group counseling with the recovery team who worked with you during your treatment program or to continue to participate in therapy support groups with other program alumni. Continued therapy from an associated or independent treatment provider may also require medication recovery checkups if medication was prescribed to you during your time in a rehabilitation center.
Ongoing support can also take the form of help with job placement or associated sober living facilities, which can help you to build a solid foundation for your life after rehab by providing a drug and alcohol free environment where you can live with other sober individuals who share your commitment to maintain sobriety. This can help you to find reliable support, which is also one of the most important parts of staying sober.
Emotional support can be provided by family members, friends, or even trained professionals like recovery coaches who can help you work through negative emotions in healthy ways. It can be important for you to realize that someone is there for you if you are ever struggling with an intense drug craving, even if that just means that they will be able to pick up the phone. Drug testing is also required on a regular basis at most sober living homes, which could provide additional accountability to someone working their way towards a sober lifestyle.
Join A Support Group
A support group is a great way to build your support network by making sober friends. It can also give you a safe space to be open and honest about the conflicting emotions that may arise as you work through your recovery. Twelve step groups like Narcotics Anonymous and Alcoholics Anonymous are the most common type of recovery support groups, but if those do not align with your values or philosophy, other groups like SMART recovery, Women For Sobriety, S.O.S., Lifering, and many others may be more suitable to your needs.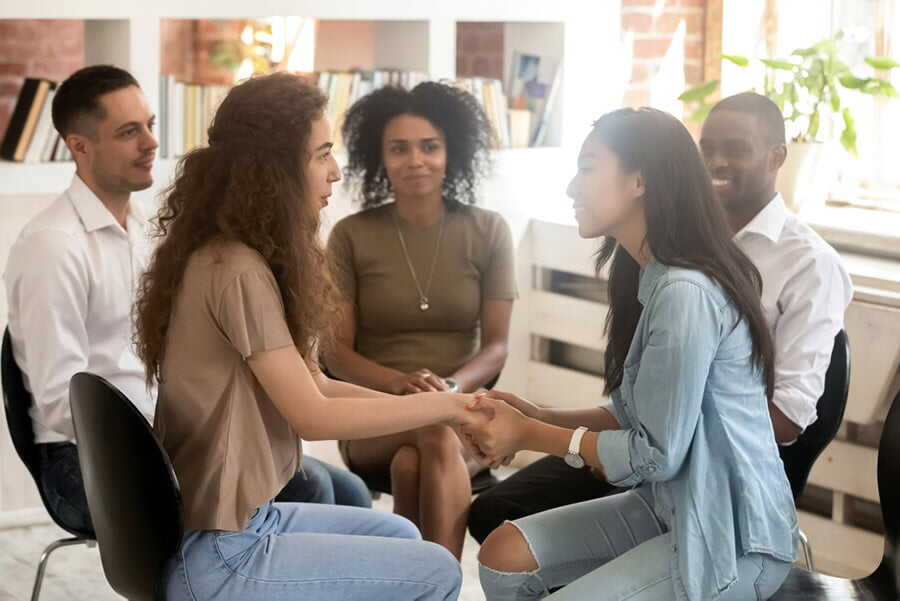 Prioritize Relapse Prevention
Preventing relapse is another incredibly important part of achieving lasting sobriety. Thus, you may want to avoid high risk settings whenever possible, such as places where you might be tempted to drink alcohol or places that remind you of your past drug use.
Avoid spending time around people with whom you have dysfunctional relationships or with whom you will be tempted to abuse drugs. If you ever do have no choice but to attend an event you know will be triggering to you, bring a sober friend or family member who can make sure you stay sober or try to keep in touch with one regularly by phone or text.
Knowing the relapse comes in a mental phase, emotional phase, and physical stage can also help you stay sober by allowing you to seek help from health care professionals at the first sign that you may be approaching relapse rather that allowing the relapse to happen. However, if relapse occurs, it is important to seek immediate help from a certified addiction professional before drug or alcohol abuse begin to take over your life once more.
Prioritize Self-Care And Exercise Healthy Coping Skills
Maintaining sobriety can also be a lot easier if you maintain an overall healthy lifestyle. This might include going out of your way to eat a healthy diet, exercise regularly, and get enough sleep. You can should also make an effort to manage stress levels by making self care activities like meditation, journaling, and scheduled downtime to decompress a regular part of your schedule.
Something as simple as a warm bath with your favorite scented shampoo, setting a few hours aside to binge watch your favorite TV show, or splurging on a spa day with some pals could be important in helping you to relax and helping to keep your mood high, which can stave off temptation to use drugs to cope instead.
Making an effort to give back can also help you stay sober after rehab by giving you more of a sense of meaning in your recovery. For instance, many former addicts find great joy in helping others who are currently struggling to make their way to sobriety, which is why one of the tenets of twelve step programs is passing the steps on to others.
Other options if you are feeling low and want to do something that will help others and take your mind off drugs at the same time include volunteering with an animal shelter, homeless shelter, soup kitchen, or children's organization.
Support Groups And Addiction Treatment At Delray Beach IOP
If you or one of your loved ones are currently struggling with substance abuse, our intensive outpatient program may be the right fit for kickstarting your sober life. Research suggests that treatment improves outcomes for people who are struggling substance use disorders, and treatment we offer includes cognitive behavioral therapy, dialectical behavioral therapy, rational existential therapy, group counseling, and family therapy.
Our holistic program also includes programming teaching clients about optimal nutrition and wellness activities like regular yin and vinyasa yoga, equine facilitated psychotherapy, and creative and expressive arts therapy. We are able to accept insurance, ready to help you stay sober, and eager to help you or your loved one to establish long term sobriety with our comprehensive aftercare program . To speak to one of our admissions counselors, feel free to call us anytime at 833-637-0338 or to contact us online here.